How does our Ambassador Program work?
Last week we explored in more detail some of the things we do to support our team of U Perform Ambassadors. We can take it one step further…
So, this week we are going to take a deep dive into what the program actually looks like and how it works for our ambassadors on a day to day basis.
When you join our Ambassador Program, you are invited to log in to an exclusive online portal provided to us by our partners over at BrandChamp. In this one location, you will find activities, rewards, discounts and referrals as well contact information for the team here at U Perform HQ.
We really value the feedback we get from our ambassadors and we think it is so important to keep the lines open for them to get in touch whenever they need to; to share their ideas and their progress and for help & support too! Whether it's via email, social media or even over the phone – all the details you need will be on your online dashboard from the moment you log in!
Our online portal provided by BrandChamp is an incredibly professional and easy to use platform which is designed to make your Ambassadorship as simple as possible. So you have more time to focus on creating your amazing content and sharing your passion for health, fitness and of course, your U Perform products!
When you log in, it will look something like this: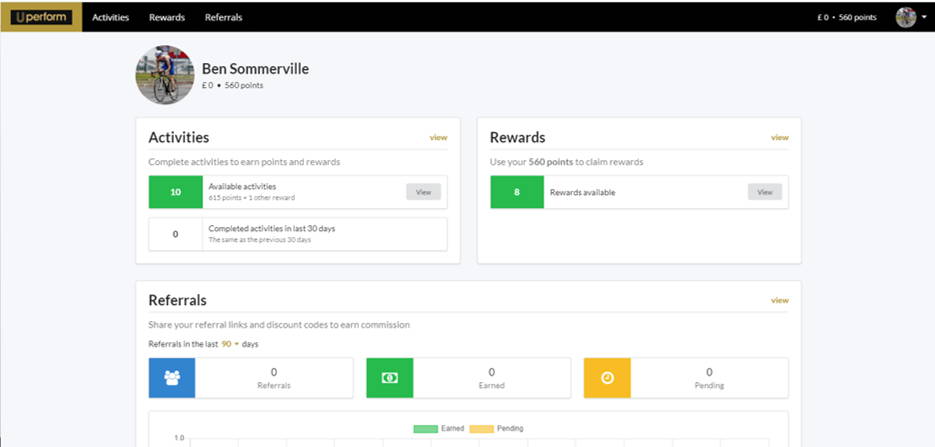 As you can see, on your online portal, you have access to 3 tabs:
Activities
Rewards
Referrals
Now there is more to it behind the scenes, but BrandChamp does an amazing job simplifying it all into just 3 sections for you!
Activities
Let's take a look at your activities first of all. These are tasks that we set for our ambassadors to complete. They range from posting to your Instagram Story, all the way to submitting a product review to our website and everything else in between.
These can be completed as and when you like and in doing so will earn you points which you can tally up and exchange for rewards. Yes…POINTS really do equal PRIZES!
All of the tasks we set are designed to allow you to be yourselves and be creative but at the same create more exposure for yourselves and us. Posting to your social media is also a great opportunity to share your referral link and discount code with your audience and to start generating sales.
To complete an activity you can submit a link to your social media post or even a screenshot. One of the team here at U Perform HQ will then take a look at your activity to make sure it fits the criteria before approving. Once we hit we the big green 'approve' button, your points will wing their way to you immediately.
Here's an example of an activity submitted by our top Ambassador – Vanessa Ruck aka @thegirlonabike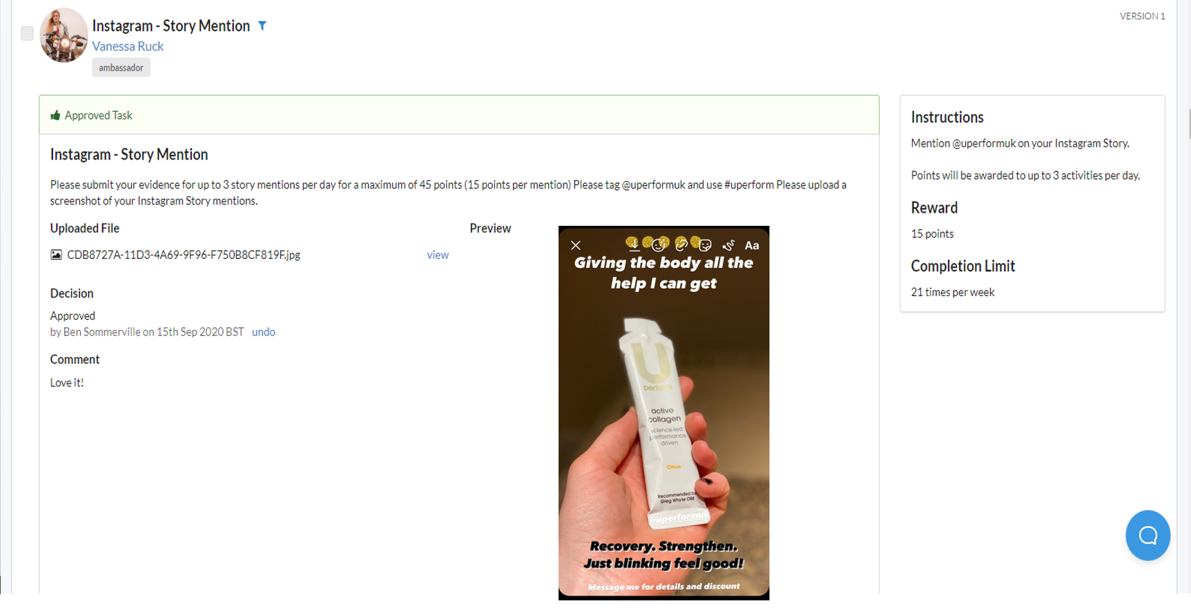 We want to make sure we are giving you all the tools you need to get the most out of your ambassadorship. So not only is Vanessa our top ambassador, she is also going to be sharing some her tips, tricks and secrets and providing social media and affiliate marketing training to our ambassadors.
We will be sharing more about this amazing training opportunity very soon...so stay tuned!
Rewards
So you've been completing your activities… Gathered quite the stash of points that are starting to burn a hole in your pockets…What's next?
It's time to claim your rewards!
In return for all your hard work posting to social media, you can claim FREE products in exchange for the points you have saved up. It really is that simple.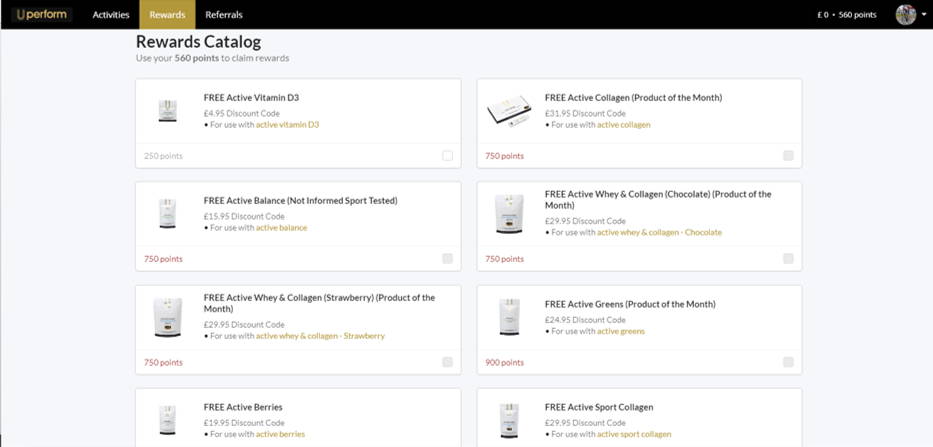 It is so important to us that you are able to look after your own health & wellness too! That's why we offer different ways to get hold of your products either for FREE or at a significantly discounted rate. Just one of the many benefits you will receive as a U Perform Ambassador!
Referrals
And last but by no means least, we have the 'Referrals' section. This is where you see all the fruits of your efforts and track all of the sales you have generated, how much commission you have earned and how much is waiting to be paid to you – we generally do this once a month.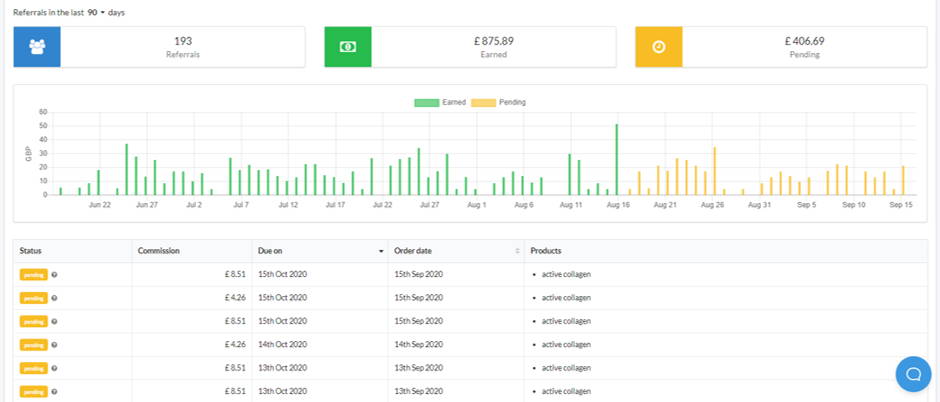 That may seem a lot to take in, but our ambassadors get the hang of it in no time! And we know you will too!
Are you an active person? Do you share our passion for fitness, exercise and nutrition? Personal trainer, Physiotherapist, Coach or Nutritionist?
Yes to any of the above - then you can join the team as one of our Ambassadors too!
To find out more and apply - head to the 'Become an Ambassador' page on our website.