Do you struggle with aching joints?
Find out how FORTIGEL® Bioactive Collagen Peptides® can help you...


Collagen is a major component of the human body and it actually accounts for about 1/3 of our total body protein. It is everywhere and is especially crucial for healthy muscles, ligament and tendon strength, as well as things like smooth skin, glossy hair and healthy finger nails.
As one of the primary structural proteins of our connective tissues too, U Perform's Bioactive Collagen Peptides® are also abundant in our blood vessels, the blood-brain barrier, the cornea, dentin and the intestinal wall – Collagen is quite literally the glue that holds us together.
But did you know that collagen also makes up nearly 70% of all cartilage tissue! This is really important to keep in mind when looking for ways to maintain normal joint and bone health as part of an active lifestyle.
Today, every fourth person suffers from joint related problems and that number is going up and up all the time. This can be simply be because of age, over exercise or just the stressed out joints of a busy and active life.
But it's not all doom and gloom. There is help available for those in need of joint support…
This is where U Perform FORTIGEL® Bioactive Collagen Peptides® come in…
Here at U Perform it is our mission to create evidence based, cutting edge products that deliver real results and are trusted by our U Perform family. Each of our 3 unique Bioactive Collagen Peptides® differ in their physiological functionality and are specifically optimised to maximise stimulation of the human cell types involved in collagen biosynthesis.
And none more so than U Perform FORTIGEL®. An innovative new ingredient optimised to activate the growth of new cartilage by stimulating cells, helping to ease joint discomfort and keep joints moving smoother for longer!
The effectiveness of FORTIGEL® has been scientifically proven in numerous studies. According to published research, the ingestion of FORTIGEL® stimulates a significant increase of cartilage tissue metabolism.
---
In a study carried out at Tufts Medical Centre in cooperation with Harvard University, the long term effect of FORTIGEL® treatment on the composition of hyaline cartilage in individuals with early knee osteoarthritis was investigated.
A specific type of magnetic resonance imaging was used to visualise structural changes in cartilage tissue. Overall, 30 subjects were randomized into one group receiving 10 g FORTIGEL® a day for 48 weeks and a control group receiving a placebo. The analysis of the cartilage scans revealed a statistically significant increase in proteoglycan density in the medial and lateral tibial regions of the FORTIGEL® treated subjects compared to the placebo group.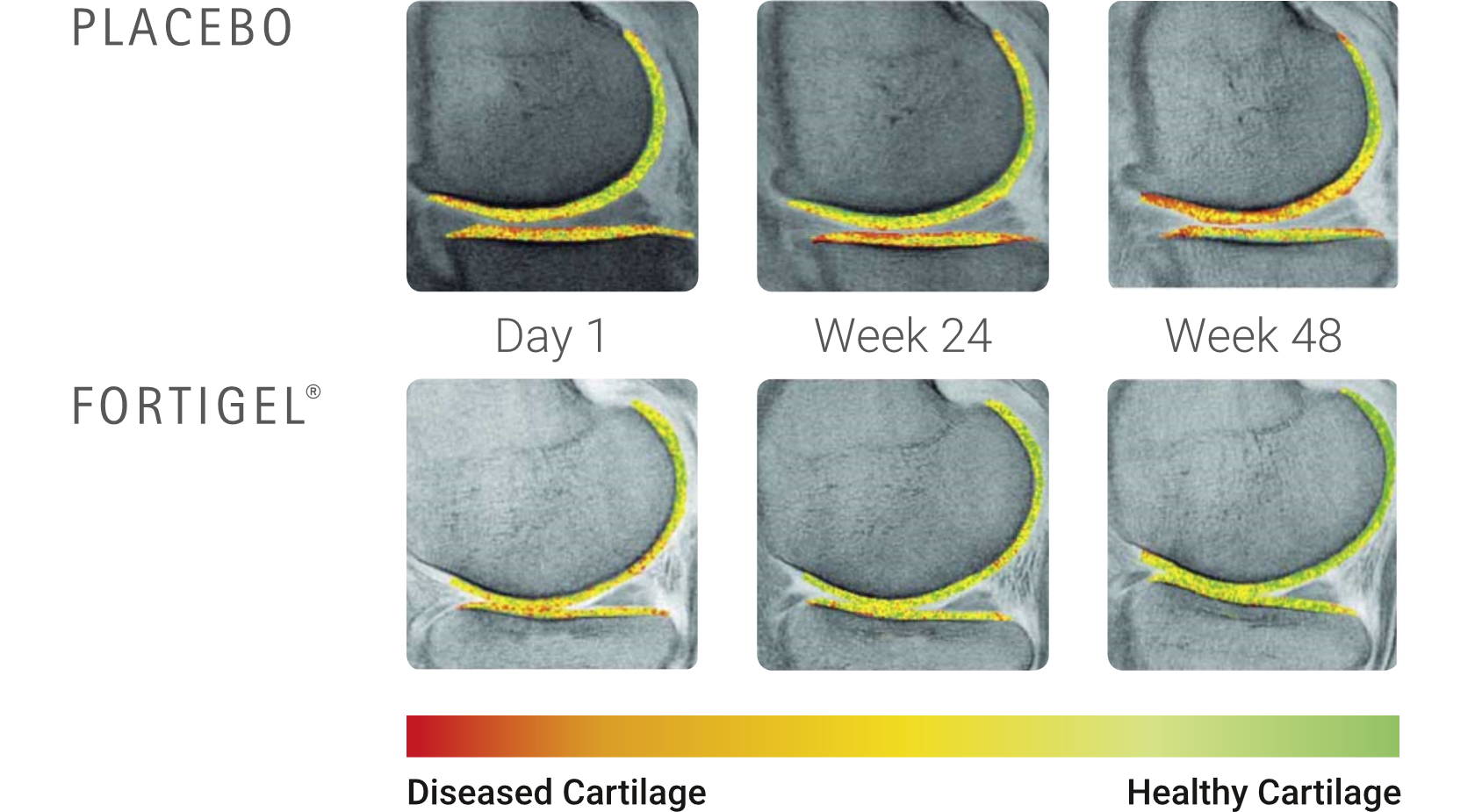 Results indicate that supplementation of FORTIGEL® has a direct impact on human cartilage tissue. This also demonstrates that specific collagen peptides can have an influence on cartilage tissue regeneration.
---
U Perform FORTIGEL® Bioactive Collagen Peptides® contribute to the maintenance of joint health and could help to preserve mobility and quality of life.
You can find FORTIGEL® Bioactive Collagen Peptides® in our:
TRY IT TODAY AND FEEL THE DIFFERENCE FOR YOURSELF
U Perform active whey & collagen is a unique blend of whey protein powder & Bioactive Collagen Peptides®, offering premium quality, enhanced functionality, and maximum performance.
U perform whey & collagen protein contains the full spectrum of Essential Amino Acids, including over 5g of Branched Chain Amino Acids per serving.